Assalamualaikum and Peace be upon all of you.
Welcome to my blog.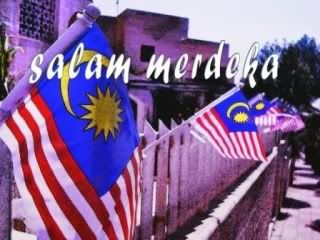 First of all, I would like to express my deepest gratitude to all visitors, followers and blogwalkers who has come here to my blog. It's been a quiet and cold morning today, and I take this opportunity to update it. It's been a busy month for me in July. Taking a part time job, I just can't manage to spend my time to blogging. Only 11 posts, it is a real blow.
"Merdeka!"
Of course, if Malaysians were asked about what is August to them, independence will be the first to come out. This will be the first year when Malaysian celebrates a new public holiday, "Malaysia Day". Even though Malaysia gains independence from Britain in 1957, it is not Malaysia that we all know today. It is only the Peninsular of Malaysia, (known as Malaya at that time). Singapore, Sabah and Sarawak still colonies to the British Empire. On 16th September 1963, the Federation of Malaysia consist of 13 independent states was formed. The Malaysia day only celebrated in Sabah at state level and never at the federation level.
For this year Independence month, I will publish independence related articles in this blog. Be sure to come. And, for the Muslims, please do not forget that fasting month will start another 11 days. "Merdeka dan Puasa" (^_^)