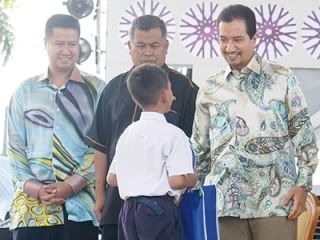 His Majesty the Sultan of Terengganu, Sultan Mizan Zainal Abidin consent to officiate the launching ceremony of Karnival Hijrah held at Dataran Shahbandar, Kuala Terengganu. Also accompanied the Sultan were His Royal Highness the Tengku Seri Temenggong of Terengganu, Raja Tengku Baharuddin; The Honourable Menteri Besar of Terengganu, Datuk Seri Ahmad Said; Minister at the Prime Minister's Department, Datuk Seri Jamil Khir Baharom and Chairman of TV Alhijrah, Tan Sri Dr. Mohd Yusof Nor.
The carnival is a collaboration sponsorship by the Prime Minister's Department, State Government and TV Alhijrah also includes various religious and spiritual program such as Program Assalamualaikum, Forum Perdana and Bersama Ustaz Don. In the ceremony, the Sultan Mizan Zainal Abidin consent to deliver contributions of school uniform to 21 students represented the 500 recipients from Dungun in the Program Jom ke Sekolah sponsored by Takwa Foundation and Jabatan Kemajuan Islam Malaysia (Jakim), Malaysian Islamic Development Department.
The carnival were held for three days from December 22 until December 24.
(picture from Sinar Harian)