After serving for full five-year term, His Majesty Tuanku Mizan Zainal Abidin of Terengganu step down and bid farewell to the Federal Capital. In Malaysia, the Yang di-Pertuan Agong is the highest position and authority in the Federation. He is the Supreme Ruler, Commander of the armed forces and the Head of Islam. The throne is rotated among the nine Malay rulers in Malaysia and can only served for maximum five-year term.
Thus, Tuanku Mizan Zainal Abidin has completed his responsibility and returned back to his home state, Terengganu Darul Iman. His reign always will be in the heart of Malaysian as Tuanku Mizan Zainal Abidin is dubbed as 'the best Agong ever'. Just imagine, when he ascended the throne in 2006, he is just 45. Among the youngest Agong, a handsome and fearless gal-lad and not to mention having a beautiful consort by his side.
Tuanku Mizan Zainal Abidin and Tuanku Nur Zahirah
A deepest gratitude to the 13th Yang di-Pertuan Agong of Malaysia by Your Majesty's services and affection in ruling the nation.
December 13, 2006 until December 12, 2011
Just like a malay phrase sound, Yang patah tumbuh.. yang hilang berganti.. In English, it means the broken will grow again, and the lost one will be replace. The vacancy left by Terengganu will be filled by Kedah. And, it is the most historical event in Malaysia up to date. The first ever Sultan to be elected twice as the Yang di-Pertuan Agong. When he ascended the throne in 1970, he was just 43, the second youngest King. Now, he is already 84, becoming the oldest King ever to ascended the throne, and coming to the throne with a new Queen by his side.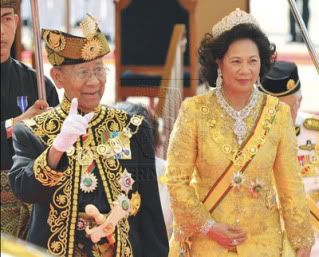 Tuanku Abdul Halim Muadzam Shah and Tuanku Haminah
Congratulation to His Majesty Tuanku Abdul Halim Mu'adzam Shah on his proclamation as the 14th Yang di-Pertuan Agong of Malaysia.
May Your Royal Majesty shall reign in peace and harmony with fair and justice.
DAULAT TUANKU
LONG LIVE THE KING