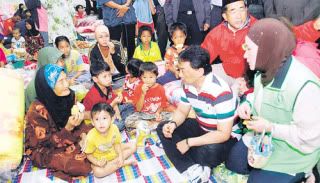 His Royal Highness the Tengku Mahkota (Crown Prince) of Pahang consent to visit the flood victims in the District of Rompin. Also accompanied the Crown Prince is his consort, Her Royal Highness the Tengku Puan (Crown Princess) of Pahang, Tunku Azizah Aminah Maimunah Iskandariah and the Member of Parliament of Rompin Constituency, Datuk Seri Dr Jamaluddin Jarjis.
The number of flood victims in the state of Pahang has risen to 1,652 up to date. All of them coming from almost 18 villages which affected by flood in the District of Kuantan and 4 villages from the District of Rompin. The villages affected in the District of Kuantan are Kampung Seri Kuantan, Baru 3, Batu 4, Teluk Mahang, Sungai Belat, Kampung Belukar, Kampung Kurnia, Kampung Razali, Kampung Tiram, Kampung Segantang Lada, Kampung Tanah Putih, Cenderawasih, Kampung Seri Damai, Gudang Rasau, Jaya Gading and Gudang Rasau. While the 4 villages affected in the Rompin District is the settlement of aborigines tribes of Kampung Janglau, Kampung Perepat, Kampung Kurnia, Kampung Kerpai and Kampung Paya Laka.
One evacuation center in the District of Pekan has been closed as the flood in the district has already subsided.
picture from Utusan