21st July 2010 - HRH the Sultan of Kelantan, Sultan Ismail Petra safely return to Kelantan after received a follow-up treatment at Mount Elizabeth Hospital, Singapore. His majesty arrived safely at Sultan Ismail Petra Airport around 1.20pm after received the treatment for five days since 15th July. The Sultan was accompanied by HRH The Queen of Kelantan, Tengku Anis Tengku Abd Hamid and both of his sons, Tengku Bendahara of Kelantan, Tengku Muhammad Faiz Petra and Tengku Muhammad Fakhry.
Among those who welcomed the Sultan arrival are Tengku Salwani, Tengku Merjan, Tengku Rozan and other members of the royal family accept for the Regent of Kelantan, Tengku Muhammad Faris Petra. Kelantan Menteri Besar and other state executive councilor were not present during the arrival.
TRIVIA
Among the most unique state in Malaysia, Kelantan got its name from the word Kilatan which means 'The Land of Lightning'. The state of Kelantan is known for its Arabic honorific of 'Darul Naim' which means 'The Blissful Abode'. Parti Islam Se Malaysia (PAS) has ruled the state since 1990. Kelantan is also famous as Malaysian 'Veil of Makkah' title for years. The state capital, Kota Bharu also been given the title as 'The Islamic City'.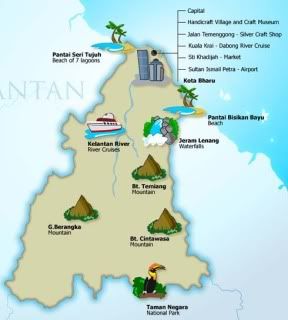 The casual attire of Kelantanese men and women.