In April and May, the most popular figure among the visitors of Radin's Blog coming from the Kelantan Royal Family. Compare to the busy blog's traffic in May, June is actually quit mild. Nevertheless, there exists an intense competition among three popular royalties in June. For the first time, Radin's Blog will announce the 2nd and 1st runner up to the title of The Persona June 2010.
The 2nd Runner up falls to the Raja Muda of Kedah. Since 1st June, Raja Muda of Kedah is Radin's Blog most popular keyword. The 1st Runner up belongs to HRH Tunku Azizah Maimunah Iskandariah, The Crown Princess of Pahang. While the most popular keyword in June and also The Persona June 2010 is Azrinaz Mazhar Hakim, former wife to Sultan of Brunei, HRH Sultan Hassanal Bolkiah. The shocking news of Sultan Hassanal Bolkiah divorces Azrinaz can be considered the hottest story in June 2010.
AZRINAZ MAZHAR HAKIM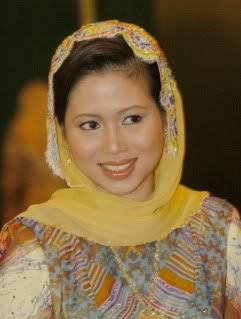 Azrinaz Mazhar is a daughter to Hakim Mazhar bin Mohd Johar and his wife, Fauziah Abdullah Mansoor. Born in Malaysia, Azrinaz Mazhar is TV3's Journalist and Newscaster. Azrinaz was born on 23rd September 1979. She is known as Naz further her study in MIIM before working with TV3. She received "Most Promising Jornalist" award in 2000 and MIIM Alumni Award in 2002. She later quit TV3 and stated that she wanted to "venture into other undertakings" in May 2005.
Marriage and Divorce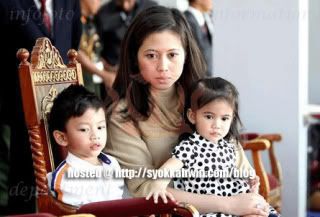 Azrinaz with her son and daughter
Later, Azrinaz Mazhar Hakim married with HRH Sultan Hassanal Bolkiah of Brunei on 20th August 2005 in private ceremony at Kuala Lumpur. Azrinaz gave birth to a prince and princess.
Pengiran Muda Abdul Wakeel (2006)
Pengiran Anak Puteri Ameerah Wardatul Bolkiah (2008)
Before marrying Azrinaz, Sultan Hassanal Bolkiah has married with Raja Isteri Pengiran Anak Hajah Saleha and Mariam Abdul Aziz (divorced). After her marriage, she is officially styled as HRH Pengiran Isteri Azrinaz Mazhar.
On 16th June 2010, Sultan Hassanal Bolkiah divorces Azrinaz with the first talak and stripped from all of her royal title.
Public Appearance
Sultan Hassanal Bolkiah is widely known as a Sultan unlike any others, where his majesty usually brings all of his wives to various ceremony and functions. Azrinaz is usually seen besides HM Sultan Hassanal Bolkiah and HM Queen Saleha in many occasions.