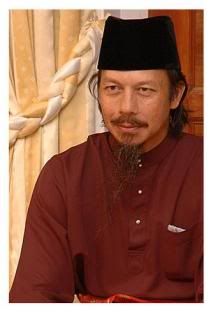 His Royal Highness the Raja Kechil Sulong of Perak, Raja Ashman Shah ibni Sultan Azlan Shah died due to Asthma at 1.30am in his residence at Jalan Setia Bakti, Bukit Damansara, Kuala Lumpur. The body of late Raja Ashman Shah was brought to Istana Iskandariah around 6.30am and will be buried at Al-Ghufran Royal Mausoleum after Asar prayer this evening.
His Royal Highness Raja Ashman Shah was born on 28th December 1958, the second son of Sultan Azlan Shah by his consort, Tuanku Bainun. He is a holder of Bachelor of Economy from University of Nottingham and Master Degree in Law from Lincoln's Inn, London. He also a holder of Diploma in Business Law from the University of London. He was married to Datin Seri Noraini Jane and was blessed with a son and two daughters.
He was first appointed as the Heir Presumptive to the Perakian throne in the complex State of Perak line-of-succession as His Royal Highness Raja Kechil Bongsu (
the sixth in line
) of Perak on 11th May 1987. In March 2010, the State Royal Council of Succession appointed him as His Royal Highness the Raja Kechil Sulong (
the fourth in line
) of Perak. The position he hold until his death.
Condolences from Radin's Blog to the Perakian Royal Family and to the citizen of Perak due to the death of their beloved Prince.
May his soul be blessed by Allah
His Royal Highness Raja Ashman Shah ibni Sultan Azlan Shah
(1958 - 2012)
The Raja Kechil Sulong of Perak (2010 - 2012)


AL-FATIHAH