Assalamualaikum and Peace be upon all of you..
Welcome to my blog.
I was amazed by one article in Harian Metro this morning. School with only one student. A very interesting fact. Believe it or not, this is happening to SRJKT Ladang Sungai Timah and its only student, K Humah.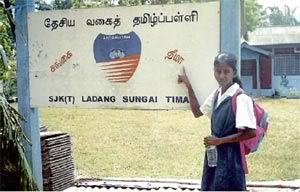 K Humah, 12, a standard 6 student will taking her UPSR this year taking about 30 minutes communicating to school by boat said that she is really lonely due to the fact that she has no other friends to talk to or sharing problems about school. But this not stop her to continue her studies.
Plus, the school is equip with computers, projectors, library, 42" televisyen, canteen and field. All of this accessory will be used by her only! The school is run by 3 teachers, its principle M Paramiswary, 54, and 2 other academic teachers, M Jaya Kumar (27) and V Moganathaf (19) who also taking turns teach its only student.
As she will taking her UPSR this year, it is possibly that she will be the last student of the school...