Assalamualaikum and Peace be upon all of you..
Thanks for viewing my blog.
Architectural scope for this month will present to you the current highest scycraper in the world, Taipei 101. It has been entitled the highest scycraper since 2004 and it will be at least until September 2009 when Burj Dubai constructions is complete. The total cost for the tower is US$ 1.76 billion. The tower architect is C.Y.Lee & Partners.
The Tower is located at Xinyi District, Taipei.
It has been hailed as one of the Seven New Wonders of the World (Newsweek magazine, 2006) and Seven Wonders of Engineering (Discovery Channel, 2005).
CHARACTERISTICS
The high of the tower from the ground to the highest architectural structure are about 509.2 meters. The tower has 101 floors above ground and 5 underground. The tower also has the fastest moving elevator in the world, 16.83 m/s (60.6 km/h)
Among its additional features, it is build to withstand strong typhoon and earthquake. Planners aimed for a structure that could withstand gale winds of 60 m/s (197 ft/s, 216 km/h, 134 mi/h) and the strongest earthquakes likely to occur in a 2,500 year cycle. These features combine with the solidity of its foundation to make Taipei 101 one of the most stable buildings ever constructed.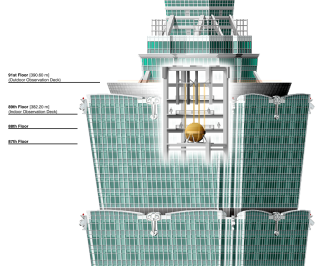 Location of Taipei 101 largest tuned mass damper
Thornton-Tomasetti Engineers along with Evergreen Consulting Engineering designed a 660 metric tons (728 short tons) steel pendulum that serves as a tuned mass damper, at a cost of NT$132 million (US$4 million).
Tuned mass damper
Suspended from the 92nd to the 88th floor, the pendulum sways to offset movements in the building caused by strong gusts. Its sphere, the largest damper sphere in the world, consists of 41 circular steel plates, each with a height of 125 mm (0.41 ft) being welded together to form a 5.5 m (18 ft) diameter sphere. Another two tuned mass dampers, each weighing 6 metric tons (7 short tons), sit at the tip of the spire. These prevent damage to the structure due to strong wind loads.
PURPOSE
Among the towers functions:
communication, conference, library, observation, office, restaurant, retail, fitness center
The tower also the symbol of the axis mundi, a world center where earth and sky meet and the four compass directions join.
Feng Shui fountain outside Taipei 101
COMMENT
Love at Taipei 101
Can withstand strong typhoon and earthquake, I do think that the developer has do their job well done.