Assalamualaikum and Peace be upon all of you..
Thanks for viewing my blog.
Today, after 5 years of waiting, Datuk seri Najib Tun Abdul Razak finally sworn in as the 6th Prime Minister of Malaysia. Datuk Seri Najib, who has almost 30 years of experience in politics were the first son of Malaysia 2nd Prime Minister, Tun Abdul Razak. This is the first time in Malaysia history that a son of a Prime Minister also chosen to become a Prime Minister.
(picture from Utusan)
Datuk Seri Najib, sworn in as a Prime Minister in front off the Yang diPertuan Agong, HRH Tuanku Mizan Zainal Abidin at Istana Negara at 10.00am this morning. The sworn in ceremony is showed lived through RTM and another channel.
Before this, he is also the youngest Chief Minister of Pahang and among the youngest minister in Malaysia history.
Datuk Seri Najib Tun Razak just like his father, take the office of Prime Minister during the time of reduce of support to the ruling party, the National Front. Both times see the National Front (Alliances at that times) has been denied 2/3 majority in the Parliament. Many believes that Najib can bring again support for the National Front just like his father.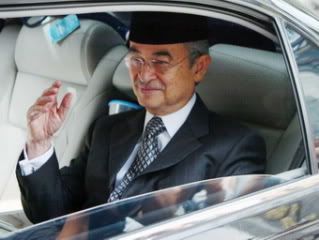 (picture from New Straits Times)
While the former Prime Minister Datuk Seri Abdullah Ahmad Badawi has been given the Tunship and thus be known as Tun Abdullah Ahmad Badawi.
PR REACTION
There are many perspectives of the new Prime Minister. Among others, Datuk Mahfuz Omar (PAS) has said;
"The new Prime Minister will only brings 'trouble' to the country. As many negatives impact has been given to him".

"Especially the celebrations of Najib becomes the new Prime Minister by the people unlike the times of his predecessor like Tunku Abdul Rahman, Tun Abdul Razak, Tun Hussein Onn and Tun Abdullah."
COMMENT
Well, what ever the reasons, each and everyone of us has differs point of view for certain matter. It is natural. But for me, I have done many research, the conclusions that I get is critics about Datuk Seri Najib has been point out since his carrier as a politicians begins. For example:
"The support for najib were only because of a support for his father"
So, this is just my point of view, whatever happens, he is the Prime Minister now. Any cases involve with him, I will only said like Tun Dr Mahathir will said, "Give me proof".
For Prime Minister Najib, good luck with your work..... =)